Welcome to the Project Express Europa!
This book is one of 15 that were sent out from Germany in June by Aktion West-Ost. It will travel through Europe during the summer of 2021. We want to stay connected and exchange ideas, even if we can't travel without restrictions at the moment.
Now you are also part of the project! You can contribute an entry to the book and then send it on!
How does it work?
First, of course, you can create your own entry in the book (see below). After you have done so, please send the book to a person who lives in another European country within 5 days. Before you send the book, please ask the person if they would like to participate in Express Europa so that none of our books go missing along the way.
If you don't know anyone you can send it to, just write to us via expresseuropa@akwo.eu. We have a list of people who would like to participate, so we can give you a name and an address to send it to.
If you receive the book on 15th September or later (or when the book is full), please send it back to Aktion West-Ost!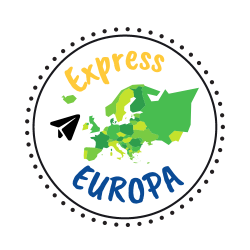 Aktion West-Ost
Carl-Mosterts-Platz 1
40477 Düsseldorf
GERMANY
How do I design my entry?
Choose one of these languages:
English, German, Polish, Czech, Russian, French or Spanish.
Please give us your following information regardless of the nature of your entry:
Name and age
Date you received the book
Where you are at the moment
How you know the person who sent the book to you.
Apart from that, you are completely free to be creative in the design, but please keep it within the limits of 1 to 6 individual pages.
Here are a few ideas: classic diary entry, travel guide report about your city/country, profile about you/your family, recipes, photo story, picture drawn by yourself, comic, poem, short story, guidebook, Top 10 lists, riddles, link to a video/your own music, ...
There is also a theme page in the middle of the book. If you like, you are welcome to join in and think about or "discuss" the topic with others.
We would be really happy if you tagged us on Instagram @aktion_west_ost and Facebook @aktionwo to let us know where the notebook is at the moment! #expresseuropa
What happens next?
We are collecting the books and will digitise them in the autumn so that you can browse through them online and look at all the entries. If you would like to be part of an online after-party for Express Europa and/or receive the link to the digitised books, please send us a short email to expresseuropa@akwo.eu.